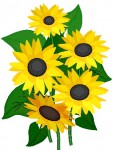 TOPIC:
What has been the highlight so far about your summer? What are you doing to get yourself ready for the new school year? Are you making any significant changes in how you do things? What are you most looking forward to about the new year?
ANSWERS:
Our highlight has been TIME with each other and just spur of the moment happenings- like fun camping in our yard, having a camp fire and tasting smores (our first time), bicycle rides in the rain, sailing our boats, VBS camps, friends over for tea or for supper and sleep-overs. We had a good holiday and enjoyed the family time together! At the moment I am tidying up our school room and putting new posters on the wall and getting our books ready for the new term. I am not making any major changes at the moment. It will just be a new year filled with excitement and learning together. I would like to do more experiments and hands-on activities with my boys. I also want to get more involved in field trips and outings. My 4 year old wants to learn to read - so that will be something to look forward to.

-------

We had a great summer! We went to family camp, several VBS/daycamps, camping and enjoyed a Vancouver "staycation"! Our family is rested and ready for the fall! The year will be different for us because our second oldest is now in grade one. With two of the kids "doing school" I'm feeling some need to be a little more serious and methodical with regards to our studies. One of the things we're most excited about is the possibility of opening our home up to other young students who would like to study science with us.

-------

Our summer prep actually began in the spring when we started reading historical fiction on the early years of North America, out loud together with Dad in the evening. Some titles included Pierre Berton's "Klondike Gold Rus"h series, and "Jason's Gold", by Will Hobbs. So we decided for our summer camping trip we would visit Barkerville, which isn't the Klondike - that is too far away; however, it is the site of one of the great Gold Rushes of North America. We had a fabulous time, and it would be hard to say what the best part was. Our 9 year old, really believed he had struck it rich when he panned for gold in the sluice boxes. We attended court and listened to "Judge Begbie" hold session. Don't want to mess with him! We visited the schoolhouse and had our nails inspected, and I was required to cover my head with a proper hat; after all, no self respecting girl goes about with her head uncovered! We spent one afternoon visiting with one of the bachelors in his kitchen while he prepared pickled cherries and told us all about his partner, Mr. Bowron, and his amazing wife. We attended church on Sunday morning and learned about the sacrifices and faith of the Reverend and his family called to build a church in the town. These people are all actors, that stay in character throughout conversations. We decided to splurge and spent the last night there right in town at the St. George's Hotel, which included a yummy breakfast, then stopped at the bakery on our way out the next morning to buy still warm cinnamon buns for our trip home. As you can probably tell, we would highly recommend a visit. They do an excellent job of making history alive!

-------

This year I am starting my 21st year of homeschooling! I've never subscribed to having a curriculum for all the subjects, or that all the subjects have to be covered with curriculum every year! I am even more relaxed now, having had children graduate, with still 2 at home, and 2 at the local high school for the last 3 or 4 semesters of their schooling. They are all doing well, moving forward in their chosen professions. More than ever, I believe that everyday life and family are the best educators, with God and the Bible as the basis for how we live, and all the "other stuff" is good, even very good, but not the most important. 2 Peter 1:5-8 says, "make every effort to add to your faith goodness; and to goodness, knowledge; and to knowledge, self-control; and to self-control, perseverance; and to perseverance, godliness; and to godliness, brotherly kindness; and to brotherly kindness, love. For if you possess these qualities in increasing measure, they will keep you from being ineffective and unproductive in your knowledge of our Lord Jesus Christ." Notice that faith and goodness come before knowledge! However, knowledge is part of that, and I do teach math, and we certainly do some writing most days, including some spelling and handwriting. I love science, so that gets in there, and this present child loves drawing, so we do more art than I ever have! Learning is just part of our lifestyle. So, as this year begins, yet once again, I am very grateful to God and my husband that I have this wonderful opportunity to spend all this time with my son. Time is something we can never get back. I am truly blessed.

-------

I think the highlight of the summer for me has been the downtime. Traditionally we have camped and travelled a lot, as well as done some sports volunteering that have made my summers very busy. This year we only did one trip as a family, and had five weeks at home with very little scheduled, and lots of time to reorganize my house. Organizing and rearranging our entire house has been my summer project. I finally know where everything is, and have literally cleaned out bags and bags of stuff. It feels good to be organized! I feel ready for the school year. What I am doing differently is an extended lunch break where I will read aloud to the kids as it seems we often don't get as much read aloud time as I would like. I have also cut way back on my outside responsibilities so I will have more time to just enjoy my kids.
From the September 2009 NLHS newsletter
"Clip art from PicGifs.com"